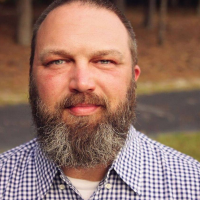 BK Harrell
Contemporary Romance
BK Harrell is former Navy physician who has had a long love of writing. He specializes in medical, military and sports romance writing. He began seriously writing while deployed to Afghanistan in 2012 and has never looked back. His first novel The Infertile Heart is the first of The Doctors of Atlanta Series. Whether he is teaching, serving his country, educating people about the fine art of cigars, practicing medicine or spending time with friends and family he uses his diverse background to shape the world around him through words.

He uses his unique experiences and love of all things Atlanta, University of Georgia and sports to weave intricately detailed stories focused on Atlanta and the surrounding areas. His goal is to bring the same joy and excitement he sees in his own city to the readers and to allow them to experience the city through his eyes.

Dr. Harrell is married to his beautiful wife Erin, a proud graduate of Auburn University, which makes multiple appearances in his books, their wonderful son Landon, and their two beautiful rescue dogs Holly and Brindle. Dr. Harrell is a native of Augusta, GA and a proud graduate of the University of Georgia, Emory University, and proud to have been a member of the first ever graduating class of Georgia Campus Philadelphia College of Osteopathic Medicine. He currently resides in the Atlanta area where he practices medicine and raises his family.
When I discovered libraries, it was like having Christmas every day.
Jean Fritz